Moe Abeidat, CTO at Property Monitor, analyses what sort of impact the latest amendments to residency laws in the UAE will have on the country's real estate market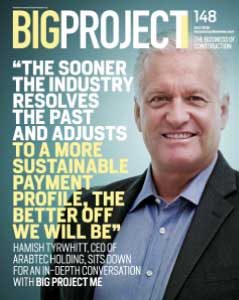 This May, the UAE Cabinet announced a number of amendments to current residency laws, a move that has created a stir in the country's real estate market, with a number of property experts predicting that the regulatory changes could have a positive impact on the sector.
According to the changes, residency visas of up to 10 years will be available for key professional workers, including doctors and engineers and their families. Furthermore, foreign investors establishing businesses in the country will also be offered 10-year residency visas, while companies will be allowed to own 100% of their businesses in the UAE. Top students graduating from university will also have options to reside in the Emirates.
The roll-out of the long-term residency visas could be a game changer for the real estate industry, says Faisal Durrani, partner and head of research at Cluttons. He says that the landmark announcement is the clearest indication yet that the UAE government is committed to delivering an economic future that relies on human capital, rather than oil.
"Longevity of residence for expats is going to be a game changer as the population's historically transient nature gives way to semi-permanency." He explains. "The move will clearly go some way to stemming the loss of human talent from the UAE and will also contribute to more stable and sustainable demand for residential and commercial property from domestic buyers. This privileged group of expats will undoubtedly feel a greater sense of belonging, which will facilitate the emergence of stronger and deeper communities."
In order to better understand the impact of these changes, Big Project ME spoke to Moe Abeidat, chief technology officer at Property Monitor.
What sort of impact do you anticipate these changes of law will have on the existing stock of real estate and foreign investment?
The recent changes will contribute to reducing transience in Dubai and help bring higher certainty and confidence to the market overall.  Limitations of foreign ownership within Dubai have historically been deterrents to individual and institutional investors. With the introduction of 100% non-free zone ownership, along with longer term skilled and student visa, Dubai will likely elevate its competitive edge against other global players which could potentially help draw and retain serious talents in Dubai, contributing to a significant positive evolution to the economy overall.
What sectors of the real estate market do you think will see the biggest shifts?
Eventually, and when past the current market landscape, residential real estate will continue to develop to accommodate the growth in the longer-term population.  Global higher education will likely continue to be attracted towards Dubai and bring with it a solid ability to fuel long term talent to the market.  Commercial and industrial real estate will also likely be positively impacted with this growth as it is aimed to attract global players to the region.
Will we see an increase in buying transactions in the affordable housing segment?
It is very likely that the market will see an increase in buying transactions in the affordable housing market. Long term employment and business prospects, beyond what was previously known as an "average 2-year transient cycles of residency", will help shift the mindset of residents, from renting to building equity and buying into real estate. A 10-year cycle is a long enough cycle in real estate terms to witness appreciation if the price of acquisition is right.
Do you think developers will be changing or adapting their construction and sales strategies in response to these changes?
I think there is a good opportunity for developers to evolve their strategies to encourage home ownership in Dubai. We are seeing some developers offering Rent-to-Own type plans which provides an alternative to one of the major obstacles in home buying where buyers are currently required to pay at least 25% down payments towards mortgages. If priced correctly, this can have a positive impact on encouraging home ownership. Also, more innovative and sustainable construction specifications would be encouraged and harmonious to the potential upcoming growth of innovation in Dubai instigated by these changes.
What else can the government do to encourage investment in real estate?
The government can continue their ongoing efforts towards data transparency to encourage prospective foreign investors and end users to buy into the market, along with overall incentives to manage cost of acquisition in terms of fees. As well as, continued and increased regulation over developers and brokers to carry on building and fostering trust in the market. There is also an opportunity for banks to revisit their mortgage affordability.