With the region mulling high-speed transport options, machinery companies and dealers stand to gain from supplying the technology and maintenance that will go into keeping the projects running in a sandy environment, says Patrick Ditcham, head of machinery and business assets at Cavendish Maxwell.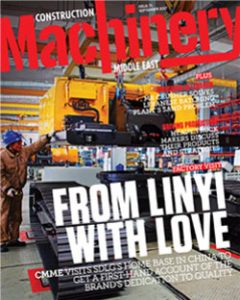 Recently, there has been a lot of interest in the press and on social media about Hyperloops. First, there was the announcement in November 2016 that the Dubai Government had signed a deal with a US firm to explore the possibility of building a hyperloop transport system. The system would be placed between Dubai and Abu Dhabi cutting the travel time between these two cities to 12 minutes! Secondly, there was the news on 20 July of this year, that Elon Musk had received verbal government approval to build a hyperloop tunnel from Washington DC to New York, claiming that passengers would be whisked along in a magnetic levitated pod from DC to NYC in just 29 minutes. A few decades ago this would have been met by laughter and ridicule however with the success of large scale projects such as the world's largest particle accelerator, the Hadron Collider and that the average smart watch has more computer power than any of the Apollo spacecraft that first put man into space and onto the moon, people are a lot more accepting of technological advancements.
People in this region may be interested to know that high speed travel between the major cities of the GCC is nothing new. In fact, as early as 1908 the first narrow gauge railway, the Hejaz railway, was opened in Saudi Arabia and ran from the Jordan border to Medina but this was subsequently closed in 1920 after experiencing some damage from World War One. Since then, several cargo projects have been completed and the first commercial passenger service was opened between Dammam and Riyadh in 1981. This line is now in the process of being upgraded to a high-speed line allowing speeds in excess of 200kmph to be achieved. In the United Arab Emirates, there is an operational railway, other than the Dubai Metro and tram systems, which runs between Shah and Habshan to Ruwais, the port on the Saudi border. There are also further plans to extend this network to Abu Dhabi and eventually onto the Northern Emirates. Although in many parts of the world, rail travel has been a mainstay of transportation for many years, progress in this part of the world has been painfully slow and this is because of a seemingly innocuous substance which is synonymous with this part of the world – sand!
"The good news for maintenance firms is that all this specialised machinery will also need to be regularly serviced and repaired, which should provide more work to the local area"
Trying to build a rail line through the desert has its own challenges, such as the variation in terrain and the extreme heat. Thankfully, these have mostly been overcome. However, the constant shifting sand is proving to be a big problem. So far, no one has come up with a failsafe solution and this has raised significant concerns about safety and maintenance issues. These problems should come as music to the ears of rail maintenance contractors as, in order to keep the lines open, enormous maintenance efforts are required thus meaning large amounts of plant and machinery required. The never-ending threat of train derailment, caused by sand covering the track, moving intruder dunes shifting over tracks and parked trains getting trapped, mean that continual work is required to keep the tracks clear. In addition, the serviceability can be affected by ballast contamination, asymmetric rail grinding and dust being lifted by running trains. And of course, all this maintenance work requires specialist plant and machinery.
The good news for maintenance firms is that all this specialised machinery will also need to be regularly serviced and repaired which should provide more work to the local area. This also serves as a good opportunity for the construction plant and machinery dealers to introduce more technical equipment and machinery into the GCC market place.
So, what of the proposed Hyperloop system? Well, this is some years off as the technology of propelling a magnetic levitated pod within a near total vacuum, is still only in the testing phase. Although, engineers in the USA reached speeds of over 320kph in July with self-driving cars. Then there are the same problems that exist already in the Middle East such as sand and whether to tunnel below the dunes or to construct a "tube tunnel" above ground which could well face similar problems of shifting dunes. Leaving all the construction problems aside, it is very exciting to think that in the not too distant future we could be travelling between many major cities throughout the region and wider countries in a matter of mere minutes!