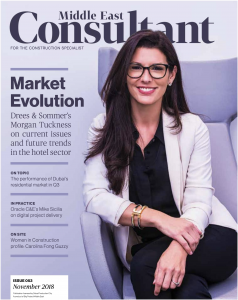 Property Monitor's Moe Abeidat discusses buying property in Dubai and the factors that influence purchasing decisions.
One thing that stood out, amidst our last sprint to publish Cavendish Maxwell and Property Monitor's Q3 2018 Residential Market Report for Dubai, is how today's average prices for a villa/ townhouse and apartment, $517,000 and $327,000 respectively, are approximately the same as in Q1 2008, before the market crash. The difference is, 10 years ago we were in a rapidly accelerating boom, with buyers flipping transfers for quick financial wins.
At the time, not many expected the market to be heading downhill, though some logical minds predicted an impending decline. Today, on the contrary, we all agree that our market is on the low side, and as typical cycles go, we are all certain of it going up, as this relatively young market grows progressively more mature.
To many prospective buyers, this is the perfect time to buy a home. This is likely as affordable as the market could get at this point. We see from our system's data insights that secondary villa/ townhouse sales have recently outpaced off-plan ones, which makes sense as families are not interested in paying and waiting for a home to be built while also paying rent. Families need their homes now, and therefore are more inclined to buy ready­ to-move-in properties. At the opposite end of the spectrum, investors (buying low to sell high in the future) are still attracted to the myriad options in off-plan apartments.
From a home ownership standpoint, and for most residents here in Dubai, the term 'affordable housing' has a warm sound, as it flares the desire many of us have: to have our own piece of Dubai. Each one of us has our own reasons to love this place and choose to live in it. Some are starting or strengthening their careers here, some are choosing to build their own business, some are well underway in raising a family with children who know Dubai as their home, and some are even hoping to retire here, especially with the new announcement regarding the retiree visa.
At the same time, a closer examination of the economics and dynamics involved in home ownership in Dubai unveils a complex set of factors that come into effect and could render home ownership unattainable for many of us, for years to come. Mortgage entry is still relatively high and, in relationship to home prices, it pushes affordability farther away from families, especially as most families have significantly higher school fee obligations, compared to most mature markets where education is virtually free.
For this category of residents, affordable housing can still be attained by tapping into the large volume of supply driving rental price lower towards affordable rent, allowing them the freedom to choose from the many attractive communities in Dubai to settle in, and further nurture their attachment to this beautiful place.
"We all agree that our market is on the low side, and as typical cycles go, we are all certain of it going up, as this relatively young market grows more mature."