Nick Constantine, senior surveyor in the Project and Building Consultancy department at Cavendish Maxwell, says that while green building legislation is a welcome development in the UAE, there is still plenty of work to do.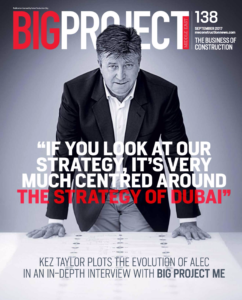 Green building put simply, is the development of high quality buildings that have as minimal of an effect on the environment as possible, both during construction and operation. It is achieved through the commitment of all parties involved and created through innovative design and the implementation of sustainable methods of construction. Although this can be accomplished independent from any regulatory framework, it is important that governments take a central role in leading excellence in green building. The UAE, in particular Abu Dhabi and Dubai, have taken on this role and are beginning to emerge as a global leader in green building.
In 2010 HH.Sheikh Mohammad bin Rashid Al Maktoum launched the UAE Vision 2021 which outlined six national priorities for the regional governments to focus on, leading up to 2021. One of the six focus areas for the UAE is the preservation of the environment and ensuring sustainable development. Since then, both Abu Dhabi and Dubai have implemented much needed legislation, introduced green building initiatives and made certain commitments to ensure this vision is realised.
In 2010, Abu Dhabi released the first version of their Pearl Rating System (PRS), which provides a model for assessing the sustainability of a development and awards a rating to the building across three stages; design, construction and operation. The PRS scores a development across seven categories and sets a minimum standard, which all developments must achieve by complying with the mandatory credit requirements. These mandatory credits are supplemented with a range of optional credits that are available to those developments wishing to achieve a higher pearl rating.
Dubai has also created legislative framework of its own to govern the development of buildings, to ensure design and construction practices are improved and to limit the effect the built environment has on the natural environment. Legislation such as the Dubai Green Building Regulations and Specifications which were introduced by Dubai Municipality in 2011 for government buildings and extended to include private buildings in 2014, has provided a much needed foundation to encourage developers, contractors and consultants alike to incorporate sustainability into their projects. The emirate has also followed Abu Dhabi's lead in launching the Al Sa'fat Green Building Evaluation System last year, although not mandated yet, it also sets out minimum requirements that all projects must achieve and provides the criteria for rating new buildings according to their implementation of green building standards.
The move by both Abu Dhabi and Dubai to create their own green building rating system is one that should be celebrated, whilst the global systems draw criticism for their generic approach, these regional rating systems can be customised to suit the local environment and the rating criteria influenced by the sustainability targets of the Emirates.
Whilst the implementation of regional rating systems are a positive move, there is still much more that needs be done to further improve the sustainability of buildings across the UAE. This must be driven by developments in innovation, education and legislation if the UAE wishes to match the standards of the highest performing western countries.
The UAE appears to be well aware of this and mindful of the challenges that it is faced with. The middle east has a climate which is unlike anywhere else in the world. The extreme temperatures and high humidity, together with the sand and corrosive atmosphere, make it more difficult to implement existing technologies. The UAE is attempting to overcome this disadvantage by supporting innovative initiatives, such as the Solar Decathlon Middle East. In partnership with the US Department of Energy, the competition will involve universities from around the world and place them in competition to design, build and operate an energy efficient house. Due to be completed in 2018, this could present a breakthrough for green building in the UAE. The competition is focused on creating a sustainable solar powered house however there is potential for the technologies designed for this to be applied in some form to the wider built environment.
The UAE is also investing significantly in renewable energy sources in an effort to reduce residential energy consumption by 40% and increase the amount of energy produced by clean energy sources from 25% to 50% of the current energy mix, in accordance with the UAE Energy Plan 2050. Although the climate is harsh in the UAE, there is an abundance of sunlight, which provides the obvious advantage of being able to harness the energy from the sun using photovoltaic panels. Dubai already has the Mohammed bin Rashid Al Maktoum Solar Park, to which the third phase of development is understood to be underway.  Abu Dhabi also took a large step towards accomplishing their targets in August 2017, with the announcement of what is billed to be the world's largest solar power plant. The development is collaborative venture between Abu Dhabi Water and Electricity Authority, China's JinkoSolar and Japan's Marubeni. The plant is programmed to be operational by 2019 and will produce 1,177 Megawatts of electricity, enough to power 200,000 homes.
Although innovative green building initiatives and large scale developments in renewables will certainly help the UAE realise its targets for sustainability, it must be recognised that these targets are ambitious. Dubai in particular, is almost back to its pre-2008 developing vigour with Cavendish Maxwell's Property Monitor indicating that an additional 30,402 units will be completed by the end of 2017. Continuous growth is something the UAE had become synonymous with and developing the built environment in this manner brings with it a rise in population, increased energy consumption and additional resource demands.
It is certainly a challenging task to achieve sustainable growth, one which the whole world is faced with. This challenge is amplified by the scale and pace at which the UAE is expanding. However, in a region which has transformed itself into a metropolis in the desert and established itself as a leading power in green building, all within 20 years, who would be willing to bet against the UAE accomplishing its targets?