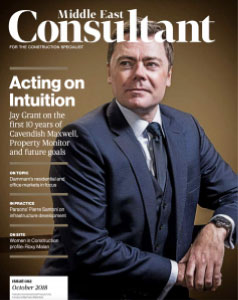 Jay Grant speaks to Jason Saundalkar about Cavendish Maxwell's early days, real estate data platform Property Monitor and expanding into new territories.
Independent property consultancy Cavendish Maxwell (CM) celebrates its tenth anniversary this month. The firm was founded by Jay Grant in October 2008, and he continues to be a driving force as chairman. Today, the firm has nine departments and offices in Dubai, Abu Dhabi and Oman. It is well respected within the industry, thanks to the quality of its services and its real estate intelligence platform, Property Monitor.
However, getting to this point was no easy feat. "The company was set up in Dubai in October 2008, just as Fannie Mae, Freddie Mac and Lehman Brothers all collapsed in the US. The market in the UAE didn't just slow down, it virtually stopped overnight. As we were planning to start the business, we expected a severe slow-down, but the severity caught even us by surprise. The next 18 months were incredibly difficult, but we got through that period with focus, innovative ideas and tenacity. And a few sleepless nights," Grant recalls.
"We had to change our approach to suit the market but starting CM always felt like the right thing to do, so we always had that confidence and belief that we would get through even the toughest of times. We started to emerge from the difficulties in 2010, and by the end of 2011 our decision to establish the company started to feel justified. The market peaked in 2014 and this was a record year for us."
Grant recalls, "However, a new set of issues were approaching and 2015 was probably the most difficult year for the business and me personally. We were at a crossroads where I wanted to take the business much further but my business partner at the time didn't share that ambition. This ultimately led to us parting ways and me buying his share of the business, but the company would not be here today if it wasn't for him and his contribution, especially in the early years."
"I did everything I could to keep the company and teams together, but it was a very stressful time. I had a stroke that October, heart surgery in November and my mother passed in December, so all things considered it was an eventful year and I was pleased to see January."
In 2015, Grant made senior appointments in support of his goals to grow the firm. "My plans remained undiminished but with the company growing year-on-year and my wish to expand, it was clear I needed more support. This led to the arrival of our highly capable finance director Houda Farhat in 2015. In February 2016, I got in touch with Nigel Armstrong on Linkedln, who became our CEO in June of that year. We work very well together and it's a privilege to be surrounded by people of such stature."
Here, Grant is quick to point out that CM has always been able to attract high-calibre people with "entrepreneurial spirits". He notes that the firm encourages the latter, which gives it an edge.
Asked what drove him to set up Cavendish Maxwell, knowing that the global financial crisis was affecting the UAE, Grant responds: "Intuition drives all my decisions. I trust it, work with it and allow things to flow. Too many people are disconnected and unaware of their abilities. I moved to Dubai from London in May 2008, and in my third week, my employer asked my opinion of the Dubai market. I said, 'I think we'll be down by Christmas and by more than anyone can imagine right now.' That was dismissed, but we all know what happened subsequently. Setting up the company was an idea that formed and felt right, so I went with it."
Identifying Opportunities
Studying the market and its players, Grant notes that he saw opportunities in the midst of challenging market conditions. "Back then, it was the end of a huge boom where people and companies had done very well. Against this backdrop, it's easy to overlook unsustainable salaries and business practices. I got the impression that companies were quite fat and preoccupied with the top line, and not too concerned about the cost base and bottom line. I thought that once the market turned, some companies were going to struggle, which would bring about opportunities for new companies that were hungry, motivated and flexible. We were opportunistic in that sense."
On how the market has evolved in the years since, Grant says: "Outside the company, I think it's probably the scrutiny and regulation, some of which is positive and some not so much. It's certainly increased our costs. As a company, we don't compromise our quality but we're up against companies that don't necessarily share this philosophy, which is their prerogative. Our business has always been about trying to achieve exemplary standards, responsive client service and unquestionable integrity, and I think that's why we have the reputation we have. I'm not saying we get everything right, but our intent is aspirational.
"Inside the company, the big change is the speed of our growth in such a short period of time. We now have 84 people working across nine departments in three office locations, which is an incredible achievement in 10 years. That said, we are working on some amazing things in the background at present and there's certainly more to come."
Creating Intelligence
One of the CM achievements Grant is most proud of is the launch of real estate intelligence platform Property Monitor in 2014. The platform is designed for banks, developers, agents, consultancies and governments.
"Property Monitor is supported by Cavendish Maxwell's reputation and valuation business and is constantly evolving. It's not about clicks and web traffic, it's about providing people with accurate and unbiased information so they can make informed decisions. It's about sharing information to help people," he explains.
Asked about his plans for the platform, Grant believes much more can be done. "We are scratching the surface of what it will become, and with all the ideas we have, it will certainly evolve in interesting ways. Can we get there organically? Yes, but organic growth is typically slower than the investment route, so we will see how things develop in that regard. It is a creative and dynamic business which will undoubtedly attract like­minded people."
He also believes Property Monitor's users will ultimately define its future. "We can try to summarise what direction we think we should take, but ultimately it's the users and subscribers of Property Monitor that will dictate where it needs to go. We have done very well releasing new products to the market and have involved people from different backgrounds. Agents have been very supportive and even our competitors are clients, and I'm very pleased to be working with such people. Their feedback will help the products evolve over time, which is good news for all subscribers:'
Summarising his goals for Property Monitor, Grant explains, "We want a much wider product set, more people using it and for it to be the tool that people and business can rely on, with confidence, for any sort of property-related information. If anyone thinks they can help us achieve any of this, we would be happy to chat. It's an exciting time."
Looking Ahead
Cavendish Maxwell is now looking at the future, and Grant is keen to address and create opportunities, despite current challenges.
"The big challenge now is the cost of living. Dubai by its nature is a transitory city and people will always come and go. It is part of its attraction. But woven into the fabric of Dubai are the people who arrived 15-20-plus years ago, and I have noticed this year that many of them are leaving. I think the government is aware of the living cost issue, which is why I think house prices have been allowed to gently fall.
"Certain initiatives, such as the freezing of school fees, have also been introduced. The cost of living must be relatively sensible or good people will be priced out. Housing is an individual's largest expense, so as it gets cheaper, this issue will self-regulate to an extent. The other issue is the changing tax regime and how various taxes will be introduced. I will leave this to the policy-makers and leadership, but I hope the UAE and Oman remain attractive work destinations."
Asked to outline territories that CM is keen to expand into, Grant comments, "I'm a big believer in thoughts become things, and if you look at a lot of our marketing, it states that we operate throughout the Middle East and Africa – and we do. We have worked on many projects outside the UAE, and this area of the business will increase over the next few years. We currently have offices in Dubai, Abu Dhabi and Muscat, but Saudi Arabia is an obvious destination for a lot of businesses, ours included."
"Kuwait is an interesting proposition, but we are reviewing many options. I think people who are following what we do are going to see some surprising developments in the next 12 months. It's not just about having dots on maps, it's about establishing and operating good businesses that suit our clients' requirements."
Discussing triggers that would set expansion plans into motion, Grant explains, "I don't wait for opportunities, they just tend to happen or we make them happen. I've never been a fatalist – I'm a determinist, if anything. Thoughts are powerful, and once an intent is set, new departments or offices tend to be client-led or an interesting individual or company approaches us. If we like it, we'll pursue it and the door is always open for those conversations."
Speaking about goals for the next five years, Grant is focused on moving the firm from a "strong local business to a stronger regional one."
The journey to get there is just as important, says Cavendish Maxwell CEO Nigel Armstrong. "We really want our team to enjoy the journey and for staff to be part of the business long-term, so we move forward together. The longer we're happy and enjoying it, and the team is as well, the longer the business can continue to grow and flourish."
Grant smiles and concludes: "Our motivations are genuine and we are in business for the right reasons. We are honest when we speak, but we are not out to undermine others in the market. If another company is better, it is up to us to raise our standards rather than talk them down. We want to be the best company we can possibly be, and that is underpinned by our integrity."