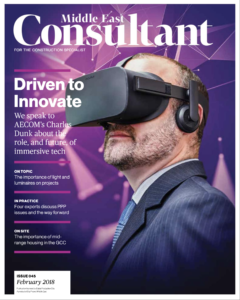 The Ajman residential property market has in the past primarily catered to residents looking for a cheaper alternative to neighbouring emirates of Sharjah and Dubai. During the market peak of 2011 and beyond, residential projects closer to the Sharjah border fulfilled the demand for affordable housing for expatriates who made up 83% of the total population in 2015 and have chosen to live in Ajman apartment blocks within 20-30 minute driving distance from key business centres in Sharjah and Dubai. However, price and rent declines among properties in Dubai since 2016 have had a knock-on effect in the Northern Emirates, including Ajman, where some projects have been scaled down or cancelled and price and rent performance have been negatively impacted.
Residential Supply
The residential market in Ajman was initially dominated by villas/townhouses built by locals but there has been an increasing number of apartment projects developed in recent years to cater to demand from expatriates. According to Cavendish Maxwell's research, approximately 9,100 apartment units are scheduled to complete between 2018-19, with expected completion dates ranging from March 2018 to June 2019. In contrast, the total upcoming supply for villas/townhouses is 2,500 units, with expected completion dates ranging from March 2018 to December 2019. The majority of large apartment projects are located on the Corniche and Ajman city, with more than 800 units each coming up in at least three projects in these areas. These are primarily mid-rise towers of 15-20 floors with only two projects with 40 floor towers. The upcoming villas/townhouses are primarily in the Al Raqaib residential district, which is being developed under the Sheikh Zayed Housing Programme.
Upcoming apartment supply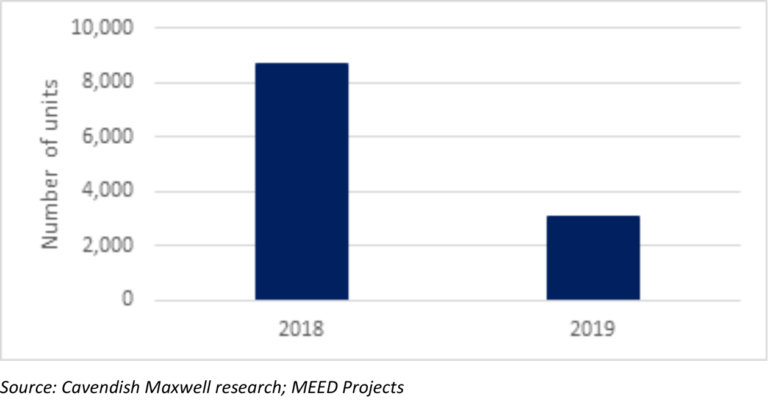 Transactions
According to the Real Estate Regulatory Agency, Ajman (ARRA), the Emirate registered more than 18,000 freehold unit transactions, representing an increase of 39% from 2015 (as of December 15, 2016). Overall AED 1.5 billion worth of transactions were finalised during the year. Cavendish Maxwell research suggests that Arab and Indian nationals make up the majority of buyers in freehold locations in Ajman. These include developments such as Al Zorah, Ajman One, Emirates City, Ajman Uptown City, among others. Most of the residential projects in Ajman have been built by private developers who do not have projects in other emirates. However, new projects have recently been announced by developers with a track record in neighbouring emirates. This includes Tiger Properties' Hamadiyah City, featuring 100 towers – between 10 to 45 storeys – spread over 40 million square feet. The project is located on Mohammed bin Zayed Road and infrastructure work for the project is underway.
Price and Rent Performance
Prevailing apartment prices in the emirate range from AED 300 per sq ft in Emirates City to AED 490 per sq ft on average in Musheiref area. The majority of stock is one and two bedroom apartments. Square foot area for a one-bedroom ranges from 550 to as large as 1,900 sq ft, while sizes for two-bedrooms range from 800 to 2,500 sq ft. Studios, which are the next popular unit type, are available in the sizes of 300 sq ft to 900 sq ft.
Rents in Ajman Corniche range from AED 34,000 per annum for a one bedroom unit to AED 70,000 per annum for a three-bedroom unit, while Emirates City rents start at around AED 24,000 for a one bedroom and could be up to AED 45,000 for a three-bedroom unit of 1,800 sq ft size. By comparison, villa/townhouse rents in Ajman Uptown start at AED 40,000 per annum for two-bedroom units and larger units of around 2,300 sq ft command rates of AED 65,000 to 75,000 per annum. Four or five bedroom villas/townhouses of 4,000 to 5,000 sq ft in Al Mwaihat command rates as high as AED 140,000 per annum.
Apartment area range by unit mix type, Ajman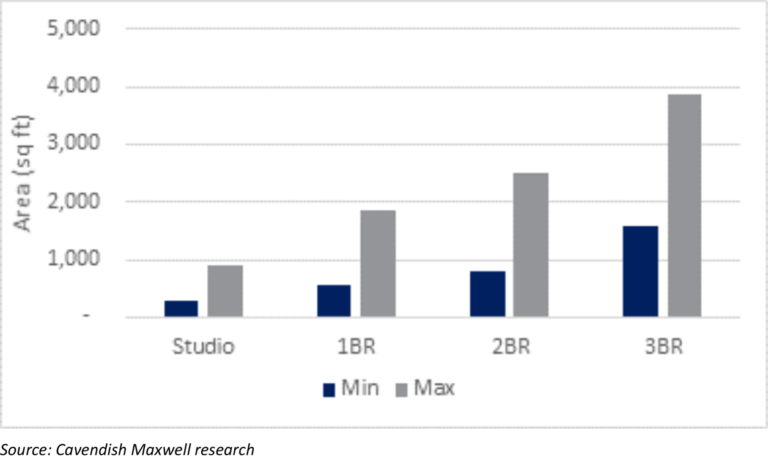 Community facilities
In addition to residential projects, Ajman has also attracted large-scale retail developments catering to the catchment population as well as visitors from neighbouring emirates. Among the prominent retail offerings are Majid Al Futtaim's Ajman City Centre located on Al Ettehad street in Al Jurf area. The mall has recently grown from 29,000 to 55,672 sqm in size as part of the ongoing redevelopment, in addition to increasing parking capacity from 750 to 1,800 as part of their AED 650 million extension project. Further down the road is the China Mall in Al Jurf industrial area. This merchandise wholesale distribution center is operated by Gulf Chinese Trading Corporation (GCTC) and occupies an area of 280,00 sqm. Additionally, Ajman Holding has recently announced the development of a 100-store mall Mirkaaz being built over one million square feet of land in the Al Tallah II area bordering Sharjah. The proposed development is expected to be completed by December 2019.
Economic Overview and Outlook
Ajman's Gross Domestic Product (GDP) stood at AED 17.2 billion in 2014 (the latest available government data), growing by 5% in comparison to 2013. Over the same period, the construction, real estate, business services and financial corporation sector grew at an annual rate of 8%. Additionally, Ajman's industrial base has approximately 256 industrial firms and the emirate ranks third in UAE in this sector, with manufactured goods being exported to over 65 countries. Additionally, Ajman's Department of Economic Development reported an in increase in demand for new commercial licenses. This amount increased to 4,233 licenses in 2016, reflecting a growth rate of 16% from 15%. The development in Ajman's industrial areas as well as the steady growth in its manufacturing sector is expected to improve job opportunities, thus improving demand for residential properties.
GDP at current prices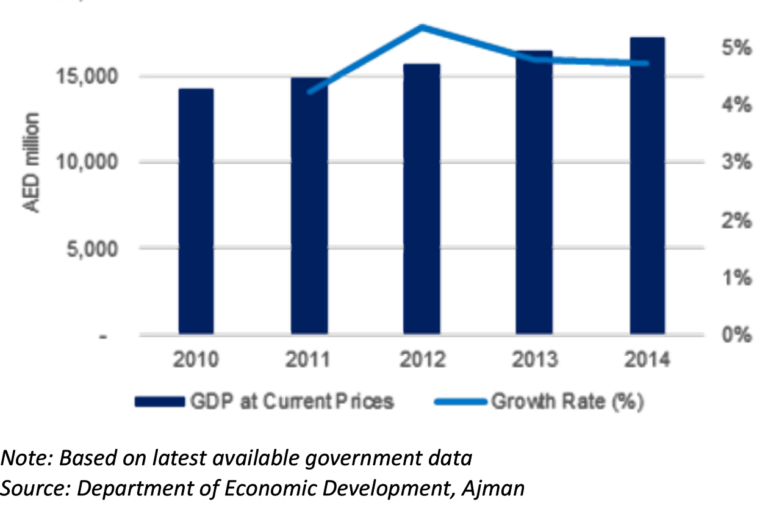 GDP by Economic Activities, 2014, (%)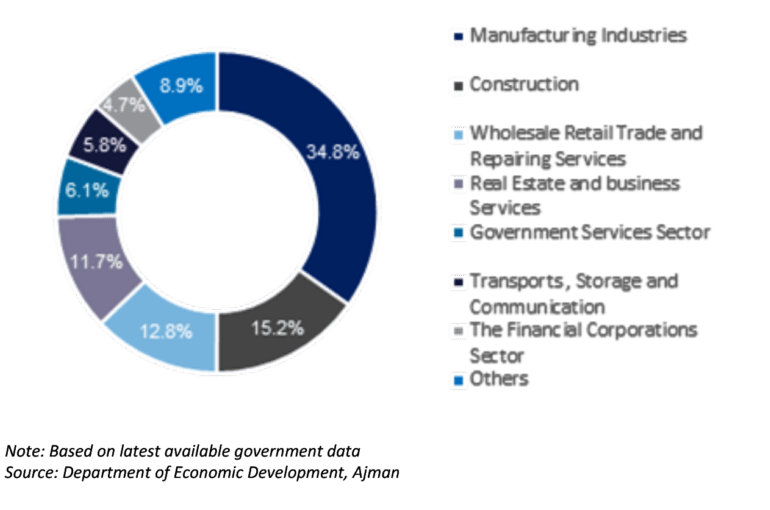 With a population of 267,684 in 2016, which is expected to reach 300,000 by 2020, the Ajman real estate sector needs to be supported by additional job creation within the emirate, through the manufacturing and construction sectors in particular, along with an increase in business activity in the free zone. In 2017, the Government of Ajman allocated 34% of AED 1.178 billion budget for supporting the economic and infrastructure development, translating the Ajman Vision 2021 and the Emirates' future plans. Infrastructure impetus by the government, improved transparency and ease of doing business, alongwith increasing activity from the private sector real estate companies could help improve the investment profile of the emirate in the coming years.
Manika Dhama is senior consultant in the strategic consulting and research department at Cavendish Maxwell.