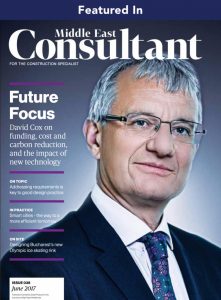 Property Monitor saw price declines continue in Abu Dhabi during Ql of 2017. Apartments in Al Ghadeer, Al Reef Downtown, and villas in Al Raha Gardens and Al Reef all experienced annual declines of more than 1.0% on average.
Downward pressure on housing demand is expected to continue in Abu Dhabi, due to job uncertainty resulting from high-profile mergers of government-backed entities. These could also result in a readjustment of employee benefit packages such as housing allowances, thus softening demand and resulting in further price declines.
According to Property Monitor, the UAE's only real estate data platform offered by RlCS-accredited property professionals Cavendish Maxwell, apartment and villa rents in Abu Dhabi investment zones also continued to decline in Ql, and declines were more pronounced among two-bedroom villas in Al Raha Beach and four-bedroom villas in Al Raha Gardens. These types of units exhibited quarter­on-quarter declines of 2.2% and 3.3% respectively. Larger units are facing occupancy pressure from weakened demand, as job insecurity continues in the emirate, especially for senior level executives.
Residential Supply
Approximately 1,200 residential units were completed during Ql of this year in Abu Dhabi investment zones. Nearly 83% of the total number of units completed in the quarter were apartments, with the majority located in the Saraya, Corniche area. New project announcements during Ql included Aldar's mid-market housing at Reem Island and Yas Island communities, as well as Manazel's 2,500 affordable villas project in Ghantoot, part of the next phase of Al Reef development. There are an additional 7,800 units scheduled for delivery during the remainder of 2017, concentrated primarily in Abu Dhabi City and Al Reem Island.
Macro-Economic Environment
Economic recovery in Abu Dhabi will be linked to oil price stability and government spending. The emirate's economy is expected to achieve a growth rate of 3.5-3.7% in 2017, according to the Department of Economic Development. Infrastructure spending will lead the growth charge, with projects worth $64 million approved by the Executive Committee as part of the Abu Dhabi Plan in March 2017. Positive signs at the start of the year also came from oil prices stabilising close to the $50 a barrel mark, after OPEC announced output cuts in November last year. This should ultimately have a positive impact on the UAE federal budget, as hydrocarbon revenues are still the main contributor to the national economy.
However, concerns still remain over the demand outlook and return on investment for sectors such as real estate, transport, tourism and retail. The effects of lower oil prices and cuts in government spending during 2015 and 2016 continue to put pressure on non-oil business sectors in the emirate.
Rent declines and a strong dollar could balance rising consumer prices, which are expected to be pushed higher this year due to rising utility and energy costs, and school fees. The rise in the rate of inflation is expected to continue throughout this year, with a spike in 2018 with the VAT introduction.
"Approximately 1,200 residential units were completed during Q1 of this year in Abu Dhabi investment zones. Nearly 83°/o of the total number of units completed in the quarter were apartments"
Mortgage rates in the country are expected to rise in tandem with US federal rate increases. The first such increase was effected by the UAE Central Bank in March 2017. Current consensus predicts two more US federal rate hikes of 0.25% each this year. First-time buyers talcing out a mortgage will have to realign their budgets accordingly, and banks in the UAE have been offering incentives to cater to a wider base of buyers.
Looking Ahead
Supply pressure will be felt more strongly on projects that are undifferentiated from existing stock. This covers units that offer 'more of the same' in terms of amenities and size, with payment plans weighted heavily towards pre-construction payments, as opposed to post-handover.
Housing budgets have come under pressure in recent months, and with new supply entering the market, areas with existing supporting infrastructure will see tenants moving to new areas, provided the rent payout does not squeeze budgets. Landlords may need to provide incentives to entice tenants, over and above flexibility of payment.
Market activity has slowed in the past 12 months, and consumers are more cost-conscious today. Any improvement in transaction levels is thus only likely when developer offerings are adjusted to current demand dynamics, from both regional investors and end users. Developers need to respond to current consumer needs by planning more efficient designs and launching lower priced inventory, especially options targeted to end users.