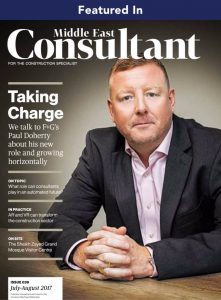 Manika Dhama, senior consultant at Cavendish Maxwell, weighs in on current and future scenarios in Dubai's real estate sector.
Residential properties saw a decline in prices for apartments and villas in Q1 2017, averaging 1.0% in comparison to last year. Although the rate of decline has slowed in comparison to Q1 of 2016, the ongoing decline over the past year and a half has impacted project feasibilities for new developments that are now looking at declining profit margins.
In the meantime, the demand for consumers, mostly first time buyers, has continued to shift to areas with existing infrastructure and amenities. The track record of the developer has also become a key factor in maintaining the rental price level. The previous phase focused less on end-consumers has now given way to products that are more responsive to this segment's demand. They also cater to a larger base of buyers that have a long-term view of Dubai's potential as a mature investment destination for real estate.
The Dubai House Price Index formulated by Property Monitor, keeps a track of property prices across the region. It derives the average sale price for apartments and villas/townhouses while taking into account the new supply that gets added to the market every quarter. Looking at historic data, it was only in Q1 of 2014 that the average residential prices went above AED3.0million mark since 2008. However, in Q1 2017, the average price stood at AED2.2million as a result of a large number of lower priced villas coming into the market. The average price from Q1 2014 and Q1 2017 averaged between AED2.5million and AED3.7million but this significant surplus of low-income housing targeted to a new segment of buyers will continue to affect the average price.
Developers are now focusing on more sustainable and efficient designs, because increasingly properties in Dubai are being bought by end-users themselves. Even the unit mix is beginning to reflect the buyers' demand. One bedrooms and two bedrooms are now turning out to be the largest share of unit mix proportion for most developments. Some recent projects are focused on releasing smaller units only, such as Select Group's Studio One project in Dubai Marina.
As the potential buyer mix is slowly tilting towards the end-user segment, payment plans have evolved to cater to this demand. A more flexible payment plan is beneficial to developers in terms of selling more units more quickly, and at a higher price per square foot. The downsides are the delayed receipt of revenue, a greater need to finance construction through other means, and potentially an increase in the instances of default. So, for each project, developers need to consider the trade-off between price per square foot, speed of sales, estimated revenue cash-flow, marketing budget, the availability, cost and effect of having to use alternative funding options such as bank loan, equity or joint venture partner.
Payment plans in the boom years leading to 2008 typically required 80%+ payment during construction. Since the real estate price correction following the 2008 global financial crisis, payment plans have become more attractive to an investor, with developers sharing more of the development risk. In the current market, payment plans vary from a significant proportion during construction, to only a small proportion, say 20-30%, during construction, with the remainder on completion or over a period following completion. These include longer term payment plans such as the five-year plan offered by Damac on villas in Akoya Oxygen project with a down-payment of 20% and remaining payment over nine installments, 20/80 and 30/70 plan for Select Group's Marina Gate Residences I and II, Danube's 1% or AED4,500 per month plan for Resortz development in Arjan, as well as special offers such as the Ramadan offer by Nshama providing 20/80 payment plan on all apartments.
The off-plan supply into the secondary market will continue to flow over the upcoming years, with an estimate of 61,000 additional units scheduled to be released this year, although delays are likely to greatly reduce actual delivery. These units are mostly in Dubailand, Business Bay, Dubai Sports City, Jumeirah Village Circle and Meydan City.
The transaction momentum in the secondary market is expected to continue, while prices adjust to meet supply and demand. Landlords, especially those owning bulk units within the same micro-market, are also expected to offer competitive pricing in order to move inventory.
Looking Ahead
The Cavendish Maxwell Residential Survey conducted among agents in the emirate tracks market sentiment. For Q2 2017 the majority of agents surveyed predicted apartment and villa prices as well as rents to remain unchanged. In terms of transactions, 64% of agents expect new buyer enquiries to increase, while 59% expect an increase in the number of agreed sales. The majority of those surveyed (55%) believe new seller instructions will also increase during the second quarter of 2017.
In recent months tenants have been able to negotiate terms downwards on renewal and the number of landlords offering flexibility to pay annual rent through multiple cheques has increased. Employers are slowly replacing housing allowances with monthly salary components and hence tenants are likely to continue negotiating on both rent as well as multiple cheques.
Regulations introduced to curb speculators from operating in the market have improved transparency and attracted not only individual investors from both traditional and newer markets but also institutional investors, such as private equity funds and real estate investment trusts (REITs), that are looking to acquire income-producing residential assets in the emirate. Market activity from these segments of investors is expected to rise in the coming years.