With Metro access and developed infrastructure, AI Barsha, Barsha Heights and The Greens are popular housing destinations
Sitting right next to each other along Shaikh Zayed Road, Al Barsha, Barsha Heights (Tecom) and The Greens col­ lectively offer a mix of housing options that cater to a wide range of segments. The lo­ cation of the three communities close to the city's main arteries and the Dubai Metro have made them popular to all types of residents, particularly those working in nearby business hubs such as Dubai Internet City, Dubai Media City and Knowledge Village.
Healthcare, schools,retail
The range of amenities, including hospi­tals, schools and retail within the area, also ticks the right boxes for many residents, espe­cially families.
"All three communities have a good location with proximity to some of Dubai's best schools," said Zhann Jochinke, chief operating officer of Property Monitor. "There are several shopping and retail options nearby ranging from small stores to malls such as Mall of the Emirates and Barsha Mall. "Top health care providers, including Al Zahra Hospital, Ameri­ can Hospital Clinic, Prime Medical Centre and Saudi-German, are also easily accessible."
AI Barsha
Comprising Al Barsha 1, Al Barsha 2 and Al Barsha 3 sub-communities, Al Barsha offers the most varied housing options with apart­ments and different types of villas. Residents also have a choice when it comes to the type of neighbourhood: Al Barsha 1, which according to Haider Tuaima, head of real estate research at ValuStrat, is the most populous in the area with an estimated 35,469 residents, offers a more urban lifestyle, while Al Barsha 2 and 3 are more laid-back "Barsha 1 is more apartment-heavy and is generally favoured by working professionals," said Jochinke. "Barsha 2 and 3 mostly cater to those with larger families and who need big­ger villa accommodation. Barsha 2 and 3 are favoured by both expats and Emirati families. "Al Barsha is accessible through Mall of the Emirates and Sharaf DG Metro stations, with feeder buses to the sub-communities.
Barsha Heights (Tecom)
One of Dubai's most accessible locations, Barsha Heights (formerly Tecom until it was rebranded in 2016) is a vibrant apartment neighbourhood that offers a wide range of relatively affordable accommodation, plus a mix of amenities, from supermarkets and salons, to restaurants and cafes – all at your doorstep. "Barsha Heights has a range of high-rise buildings where residents might choose to live due to its proximity to their offices within Bar­sha Heights or neighbouring communities such as Media City, Dubai Marina and Jumeirah Lakes Towers (JLT)," said Jochinke. "This community attracts a diverse mix of residents, including families with younger children, students and young professionals – singles and couples."
Barsha Heights sits at the corner of Shaikh Zayed Road and Hessa Street, providing easy access to key locations across the city. It is also conveniently located close to other major high ways, including Shaikh Mohammad Bin Zayed Road and Al Khail Road, giving residents more travel routes to choose from. With the Metro's Dubai Internet City station just right next to the neighbourhood, travelling is just as convenient for residents who depend on public transport. Property Monitor estimates nearly 80 percent of residences here are one-and two-bed room apartments, while ValuStrat expects 670 units to be added this year.
The Greens
As the name suggests, The Greens is a lush pedestrian-friendly community that's perfect for families and young professionals looking for the best of both worlds – all the perks of city life, but without its hectic pace.
The community has also been designed with pets in mind.
"The Greens comprises higher end and low- rise buildings," said Jochinke. "It's a mature com­munity with beautiful landscap­ing, parks, a lake, etc., which also makes it a great option for resi­dents with pets and small chil­dren. As the community is easily accessible by car and is close to the Metro and public transport, residents who have offices nearby also find it a suitable option."
Part of Emirates Living, The Greens comprises 40 apartment buildings spread across 10 com­plexes. According to ValuStart, there are a total of 3,364 residen­tial units in the community.
The residences feature shared pools, barbecue areas and children's play areas. Outside the buildings, there's likewise plenty of ways to enjoy the beautiful out­doors, with mini gardens, shaded walkways and a lake in the middle of the community.
Being a pedestrian-friendly neighbourhood, many residents prefer to walk for daily necessi­ties. The community is served by a mini mall, The Greens Souk, as well as several shops, supermar­kets, restaurants, retail and banks.
The Dubai Internet City Metro station is a IS -minute walk and is also connected to The Greens via RTA buses.
Prices
According to ValuStart, there has been generally a10-12 per cent average annual decline in prices across the three locations. Capital values in Greens, in particular, declined by an average 3S per cent since the 2014 peak, Tuaima said. "The Greens residential capital value performance is 4 per cent lower than the citywide average," added Tuaima, while noting that investors can achieve net yields of up to 8 per cent.
Rents
Year-on-year rental prices are down 11.29 per cent on aver­age across all three communities, according to Property Monitor, with the monthly rate of decline continuing to follow this trend. "We anticipate further declines in 2020 in line with the Dubai­ wide market, in general, " said Jochinke.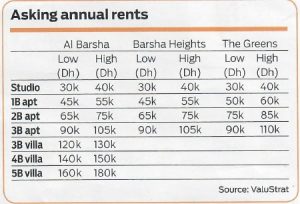 Tuaima, meanwhile, said con­tinued declines will be more pro­nounced with the smaller units. "Within Barsha Heights and The Greens we typically see some tenants upgrade to larger units," said Jochinke. "Also, tenants of Barsha Heights tend to move to The Greens with the desire to be in a more developed and quite area with a little less hustle and bustle than Barsha Heights."