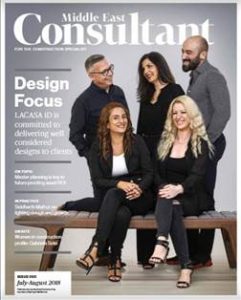 Price and rent declines continued in the Dubai residential market during the second quarter of 2018. The latest data from the Property Monitor Index indicates that apartment and villa/townhouse prices have registered 12 month declines of 2.9% and quarterly declines of 1.1%.
Buyers continue to be in the driving seat in the off-plan market. Developers are offering special incentives such as aggressive payment plans (some of them post-handover), registration fee waivers and in some instances even service charge waivers during the initial years. Project differentiation in this market is key, and there is increased attention on targeting certain nationalities through special events, roadshows etc in their home country, while also ramping up channel marketing, whether offline or online.
Secondary market activity remains concentrated in buildings and communities where investors expect relatively stable yields. Some erstwhile renters are also turning buyers, choosing to replace rental outflows with mortgage payments.
Over the last 12 months, rent declines for residential properties in Dubai averaged 5%. Quarter-on-quarter change was 2.5% on average. Locations such as International City (Clusters), Al Furjan, The Greens community in Emirates Living and Discovery Gardens had the most pronounced 12-month declines of more than 6%. Landlords, on the other hand, are offering incentives such as flexible payment terms and a rent-free period. In certain cases, they are even reducing lease rates for the existing tenants in order to keep the units occupied in a low demand climate.
For those managing property portfolios in the emirate, operating expenses have continued to rise and net realised yields have compressed in the majority of the locations across Dubai during the last 12 months. Thus, investors need to factor in the building quality, occupancy levels and the expected supply within the community to ensure a relatively stable rental income.
New supply being added each month will continue to have an impact on rents across Dubai, as tenants have more choice. This will also affect occupancies in existing stock and should be factored into net yield estimations for the forthcoming period.
Approximately 3,700 residential units were handed over across Dubai in Q2 2018. The majority of handovers were in Jumeirah Village Circle, Damac Hills, Dubai Silicon Oasis and Al Nahda, with more than 300 units handed over in each location, and more than 88% were apartments.
During the second half of 2018, the majority of scheduled delivery of residential units are in Business Bay, Jumeirah Village Circle and Downtown Burj Khalifa. Approximately 52% of upcoming supply is expected to be handed over during Q3.
Tracking transacted prices for residential properties in Dubai since 2008, the House Price Timeline published by Property Monitor shows that prices for villas and townhouses settled above the 2017 average during Q2 2018, mainly due to the limited lower-price inventory entering the market this year compared to the launches in the first half of 2017. Meanwhile, trading prices for apartments continue to shift towards the lower end of the price band, averaging AED 1.3 million in Q2 2018.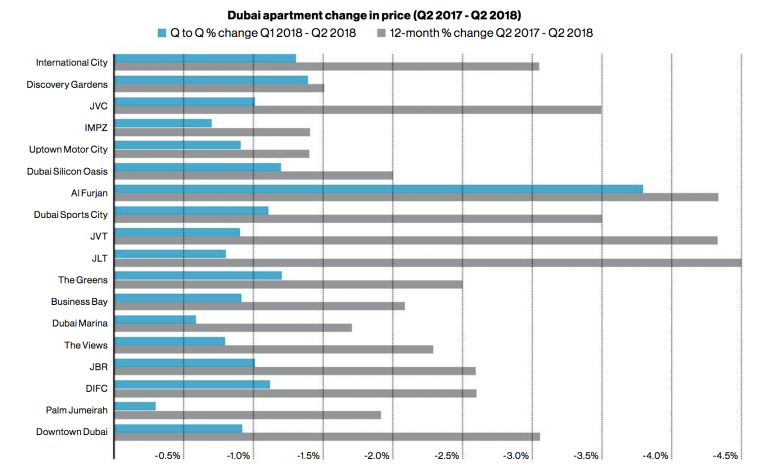 In terms of transaction volume, off-plan sales accounted for 58% of total sales in Q2 2018, dominated by Mohammed Bin Rashid City, Business Bay and Jumeirah Village Circle. As in Q1, Dubai Marina and International City led secondary market apartment sales, along with Dubai Sports City, which accounted for 33% of total apartment secondary sales. Secondary market transfers for villas and townhouses were higher than off-plan sales in Q2 2018, led by Emirates Living and International City, which together accounted for 23% of total secondary market sales.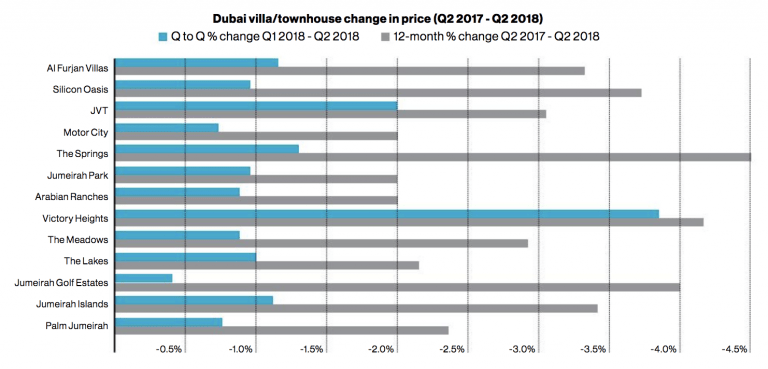 The Cavendish Maxwell Q2 2018 Dubai report also includes the Property Monitor Residential Survey, which is conducted every quarter among partner agents operating within Dubai. The survey shows that the majority of agents expect prices and rents to decrease by up to 5% in Q3. However, the majority believe that transaction activity will improve over the next quarter and that buyer enquiries, seller instructions and agreed sales will be higher in Q2.
The announcement by the UAE government on new 10-year visa regulations for certain categories of residents, as well as the 100% foreign ownership in companies, could have a positive impact on housing demand from expatriates, which is closely linked to economic performance, business sentiment and the related impact on jobs. However, the details of the new visa options are expected in the last quarter of this year and the direct impact on real estate will only become clear at that time.
For now, buyers will continue to wait on the sidelines as further price declines are expected in the majority of communities during the second half of 2018.