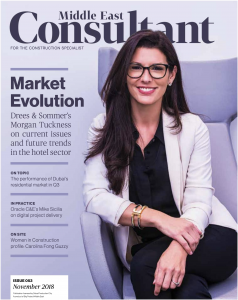 Cavendish Maxwell weighs in on how Dubai's residential real estate sector fared in Q3 of this year.
Transacted prices for villas and townhouses settled lower than the 2017 average during Q3 2018, and the price gap between apartments and independent homes is narrowing. Prices for apartments are also shifting towards the lower end of the band, averaging $326,000 in Q3 2018.
Secondary market transfers, which began outpacing off-plan activity for villas/townhouses in November 2017, continued the trend last quarter. Meanwhile, in the first nine months of 2018, off-plan transfers for apartments continued to lead the tally, as developers focus their attention on lower-priced inventory, aggressive payment plans and other incentives.
According to data from Property Monitor, 26% of off-plan transfers for apartments in the first nine months of 2018 were in the $325-410 per sq ft price bracket. By comparison, the most active price band in the secondary market for apartments (26%) was the $135-215 per sq ft segment. Studios and one-bedroom units continue to be the most active type transferred in both the off-plan and secondary market in 2018 to date.
Residential Prices
In Q3 2018, sales prices across the residential market registered quarterly declines of 1.4% for villas/townhouses and 1.3% for apartments. Subdued economic activity and handover of new supply later this year is likely to exert further downward pressure on housing sales prices. Meanwhile, the announcements by the UAE government in 2018 on new ten-year visa regulations and a five-year residency visa for retired expatriates could have a positive impact on market sentiment in the short term. However, the details of the new retiree visa options are yet to be announced and the direct impact on the real estate sector will only become visible after it has been implemented, which is expected in early 2019.

According to information released so far, to qualify for the retiree visa, an expatriate should have an investment in a property worth $544,000 or financial savings of around $270,000, or have an active income of $5,450 per month.
Rental declines were more pronounced in areas such as Dubailand, The Greens in Emirates Living, Motor City, Arabian Ranches and Victory Heights, averaging a 12-month change of around 7%. Rent decline is expected to continue during the last quarter of the year and the beginning of 2019, with new handovers planned in both freehold and leasehold communities across Dubai. However, the impact on some developments will be less notable if they benefit from unique demand drivers such as beachfront location, quality finishes and superior community facilities.
According to Property Monitor's database of rental contracts, the majority of rental agreements for residential properties in Q3 2018 were in one cheque (45%, up 7% compared to last quarter). Rental payments made in four cheques decreased by 2% over the quarter.
The majority of handovers during Q3 2018 were in Jumeirah Village Circle, Downtown Burj Khalifa, Town Square and Dubai South, with more than 300 units handed over in each location, more than 72% of them apartments. For the remainder of the year, the majority of upcoming supply is concentrated in Business Bay, Jumeirah Village Circle, Dubai Sports City, Dubai Silicon Oasis and Town Square.
Business Bay, Mohammed bin Rashid City and Jumeirah Village Circle dominated Q3 off-plan apartment transfers. International City, Dubai Marina and Jumeirah Village Circle led secondary market apartment transfers, accounting for 31% of the Q3 total. Secondary market transfers among villas surpassed off-plan transfers in Q3 2018, led by the Emirates Living, Arabian Ranches and Mudon developments, which together accounted for 30% of the total secondary market transfers registered during the third quarter.