Ras Al Khaimah Residential Market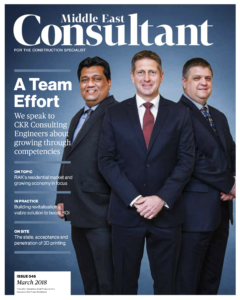 Ras Al Khaimah's real estate sector has seen a substantial increase in development activity and a change of demographics over the past 10-15 years. The emirate has witnessed rapid development of its tourism industry and increasing employment and economic activity in the manufacturing, industrial, retail, education and hospitality sectors. Additionally, the emirate offers wider freehold property options than before, thus attracting expatriates as owners and end users.
Population
Being the fourth largest emirate in the UAE, Ras Al Khaimah's growing population is a key driver for its residential demand. According to the Department of Economic Development of Ras Al Khaimah government, the population was 416,600 in 2011, 438,000 in 2013 and is expected to reach 520,644 by 2020. Expatriates currently make up 60% of the population and the majority of residential demand from this segment is for apartment and villa/townhouse units, whereas UAE nationals are more likely to occupy mid to high-end villas.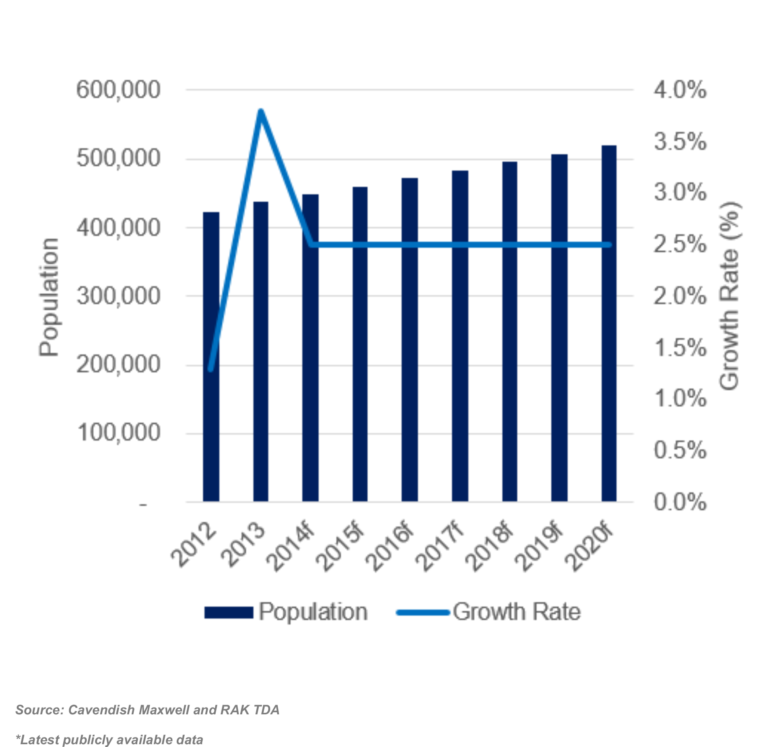 Economy
Ras Al Khaimah demonstrates significant economic potential due to its expanding tourism industry and expat population. The major sectors contributing to the Gross Domestic Product (GDP) in the emirate in the recent years are manufacturing and extractive industries, construction, financial services, wholesale and retail services and tourism. According to the Federal Competitiveness and Statistics Authority, Ras Al Khaimah's GDP increased from AED 21.35 billion in 2010 to AED 29.49 billion in 2016. The manufacturing sector contributed to 36% of Ras Al Khaimah's GDP in 2016, in comparison to 25% in 2015. Additionally, wholesale and retail trade contributed 9%, closely followed by the quarrying industry at 8%. According to Standard & Poor's estimates, the emirate's economic expansion is likely to accelerate and GDP growth is expected to average 2.5% between 2018 and 2021.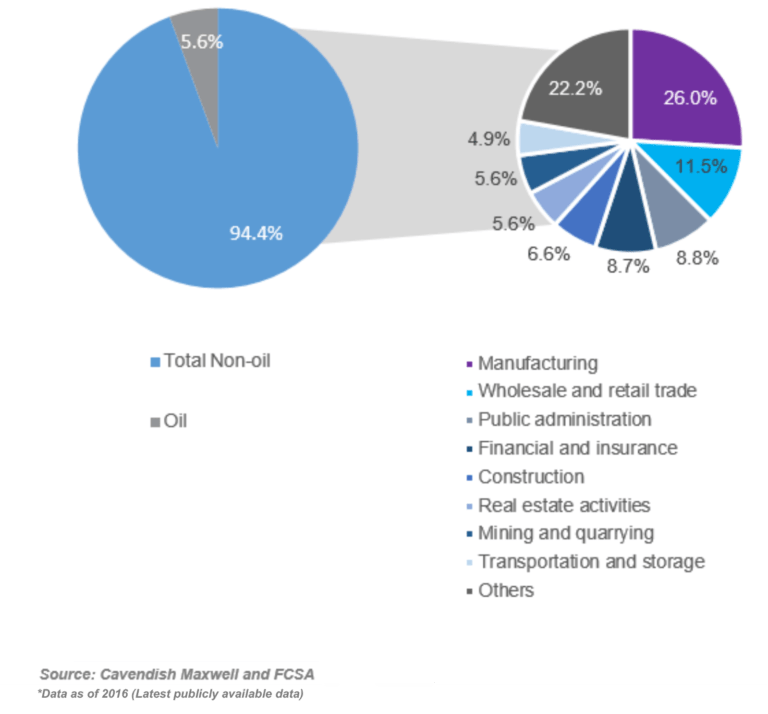 Tourism
Ras Al Khaimah's integrated communities and tourist attractions are key drivers of continued GDP growth and job creation. The number of visitors to Ras Al Khaimah in 2015 were 740,383 and increased by 10.9% to 820,772 in 2016. According to Ras Al Khaimah's Tourism Development Authority, the emirate attracted over 631,000 people in the first nine months of 2017. The tourism authority expects to reach one million visitors by the end of 2018. Given the proximity to Dubai and Sharjah International Airports as well as Oman, the emirate is easily accessible to tourists. With the growing beach resort market, historical attractions and the recently completed Jebel Jais Guinness Record holder longest zipline, tourism demand in Ras Al Khaimah is expected to increase at a healthy pace over the coming years.
Residential Supply
Most of the completed residential developments in Ras Al Khaimah are in central Ras Al Khaimah, around major commercial roads. In contrast, the north has the smallest share of housing units, most of which are older stock comprising villas/townhouses. The west also mainly consists of old residential stock, which cater to low to mid-end buyers, whereas the east consists of villas and traditional arabic houses, which cater to a mid-end to upper-mid income household profile.
The south of the emirate presents the main opportunity for development through still available vacant plots. The development of the southern coast of Ras Al Khaimah as a freehold residential destination has led to a number of water-front residential communities, including Al Hamra Village and Mina Al Arab. Al Hamra Village is an integrated community comprising over 4,000 residential units alongwith leisure facilities. The development includes Al Hamra Golf, an 18-hole championship golf course, Al Hamra Marina and Al Hamra Mall. Meanwhile, Mina Al Arab is an island community being developed by RAK Properties. The development comprises of villas, townhouses as well as low-rise apartment developments. The island also has proposed hotel developments.
Residential Demand
Current findings suggest that residential demand in Ras Al Khaimah will shift primarily towards apartments and villas/townhouses given the decreasing household size and increasing expat population. The majority of the upcoming projects targeting expats typically include studios and one-bedroom units. Smaller unit sizes are also more popular with investors and this segment has seen increased activity in other emirates as well. There is a particular focus on these unit types due to the rental demand from the target population as well as higher returns on investments and yields when compared to larger units such as four- and five-bedroom villas. The new developments in Ras Al Khaimah are offering a unit mix that is in line with the current market demand. However, the market is considered to be price-sensitive and hence fluctuation of rental rates is likely to affect the absorption rates of any new development.
Outlook
On average, Cavendish Maxwell estimates that the forthcoming residential supply will equate to around 600 units per year. Typically, project completion is within two to three years of project launch. The expansion of the emirate's tourism base is also opening opportunities for the construction of hotels and resorts. Thus, the emirate presents real estate opportunities catering to tourism, hospitality and residential demand, especially in line with requirements of the expat population. However, given the competing developments being launched and handed over in neighbouring emirates, product differentiation and specialist offerings are essential to attract both investors and end users to participate in the Ras Al Khaimah market.
Manika Dhama is senior consultant in the strategic consulting and research department at Cavendish Maxwell