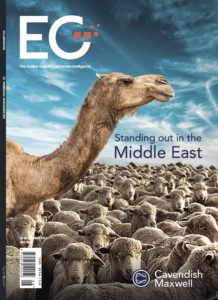 A fast-growing company in a fast-growing city, both leading the way with disruptive ideas and technology. Cavendish Maxwell in Dubai, why does it stand out?
Standing out means being disruptive. Being innovative. Identifying opportunities in markets that others haven't fully tapped into. Forging an unconventional path through a continually changing real estate landscape by doing things differently. We are not a normal company.

– Jay Grant, Founder and Chairman
Cavendish Maxwell was founded in Dubai during the eye of the financial storm in October 2008. An unconventional time to establish a business. Starting with two people cavendish Maxwell, a British run firm, has since evolved into a regional powerhouse with the largest residential and commercial valuation team in the region, trusted by more than 40 banks throughout the Middle east.

The 2008 crash changed the face of Dubai's real estate market. Prior to this, properties were transacting at high premiums, employee housing allowances were at an all-time high and investors dominated transactions. As we approach 2018, the property sector has evolved into a highly regulated yet flexible market for the first time buyers and owner occupiers.
Developers have responded to this change by introducing greater choice, competitive pricing, favourable payment plans and facilities and amenities that cater to this burgeoning segment.
This had led to evolving fintech and protect sectors, which are becoming more prominent within the industry. Cavendish Maxwell responded to this by designing, building and investing in Property Monitor. This proprietary real estate data analytics platform provides intelligence to banks, developers, estate agents, consultancies and government entities to support decision-making and provide data transparency. Property Monitor statistics show that the supply of residential units in Dubai has increased by 130% over the past 9 years, with British nationals investing more than £2 billion since January 2016. Supply continues to increase with more than 233,500 new units due for completion before the end of 2020. This growth is reflected in the residential and commercial valuation departments at Cavendish Maxwell, which have valued more than £24 billion worth of real estate in the last year alone. Aside from the company's strengths in advisory, research, building consultancy, plant and machinery, and commercial agency, this progress has enabled the firm to expand into other growth sectors including hospitality, leisure and education.
As the market evolves, so does Cavendish Maxwell's focus. Nigel Armstrong was appointed as CEO in July 2016 to explore more opportunities and accelerate the company's already enviable growth trajectory. Armstrong, former CEO of the Bannatyne Group in the UK, and Grant have since steered Cavendish Maxwell into new territories including Abu Dhabi and Muscat, and have expanded the portfolio of services offered. Cavendish Maxwell now employs more than 85 people across 9 departments and 3 office locations. The firm, uniquely equipped with Property Monitor, is on a rapid road to expansion to new and emerging markets with additional service lines and territories on the agenda in 2018. Their various teams support client requirements in the United Arab Emirates, Oman, Saudi Arabia, Kuwait, Egypt, Tanzania and Iran amongst other territories.
Standing out involves being visionary in the face of new developments, a bold approach and being a few steps ahead. Cavendish Maxwell is a multidisciplinary chartered surveying practice operating throughout the Middle East and Africa.