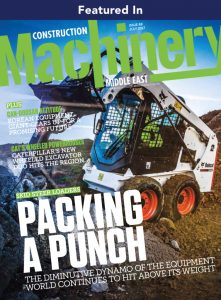 As the region's construction and equipment market matures further and increase global compliance, machinery and assets valuation is assuming greater importance than ever before. Cavendish Maxwell's Patrick Ditcham, tells CMME how his company making the most of the situation.
As every equipment and fleet owner knows. your machinery is only as valuable as the project it is working on right now. Whether it is a spanking new fleet of best-in-class mach1nes from the top global manufacturers or an old one comprising refurbished units that have seen years of use, uptime is the key. Machines that are working on the Job site are bringing in returns while those gathering dust in a shed or yard are not only not being productive. but losing value too sector has seen mini crests – as seen in a relatively heady 2015 – and troughs like the one Saudi Arabia is going through at the moment. which also threatens to engulf the rest of the region. Under this scenario, what is an equipment or fleet owner to do. especially if projects have dried up and he finds his fleet idle? Enter valuations. As a first step towards monetising the residual value of their idle or aging fleets. owners can tum to professional valuating services, such as those offered by Cavendish Maxwell's machinery valuation arm. says Patrick Ditcham. the newly-appointed partner and head of Machinery and Business Assets at the firm's regional head office in Dubai.
This downtime or dust gathering is part of the life cycle of machinery, which seasoned fleet owners worldwide know all too well. When you invest in a machine and use it for five, 10 or sometimes more years, falling prey to the vagaries of global and local economics is inevitable. As in every other region around the world, the Middle East too is prone to market cycles. After the sustained upswing of the first decade of this mtllennium. the region is in the throes of a prolonged slowdown at the moment. post the crash of 2008-09. And even in this almost decade-long downswing, the equipment.
New Project Valuation
Over the last few years there has been a noticeable increase in the number of banks offering loan security held against more general items of plant and machinery other than just cars and trucks. This has in turn meant that Cavendish Maxwell's machinery and business assets team has been kept very busy valuing a whole array of different assets.
Speaking about three of the assignments undertaken recently, Patrick Ditcham, partner and head of machinery and business assets says "In January we valued over 200 generator sets which were located across the globe. The lease company that owned these assets wanted to rationalise their portfolio and so we provided current market values as well as advice on the best method of sale to maximise the realisations."
"We carried our inspections of each type of generator set and then applied the information gained from these inspections across the fleet. As the generators were in different locations, we had to mobilise our team to visit three separate sites in three separate countries."
In April, the team was asked to provide a loan security valuation for three large 100t mobile cranes with manufacturing dates ranging from 2007-2013. This needed to be carries out under very tight timescales, however, says Ditcham. "We arranged the inspection in one day for each of the cranes which were located in three separate emirates in the UAE. Then we provided out full report within two days to the clients full satisfaction," he explains.
Also in April, Cavendish Maxwell was contacted by a company that operated a fleet of 24 school buses for internal accounts purposes. "The valuation was carried out again on a very tight timescale. Thanks to our extensive contacts and expertise in the valuation of assets of this type, we were able to complete the exercise on time." says Ditcham.
Explaining the concept of machinery valuation to CMME, Ditcham says:
"Machinery valuations are carried out in the same ways as that for property and for many different reasons. It can be for the purpose of bank security, for insurance or for a company's accounts valuation_ It can also be for rationalisation purposes or for sales."
Full-spectrum coverage
At Cavendish Maxwell, the full spectrum of valuations is covered, he points out. from market and insurance valuations to accounting valuations.
Fundamentally, these are the two main ones. There is also a mixture of market valuation and depreciated cost, depending on what the purpose is behind getting a valuation done. What we do depends on what the instruction is.
"For example, we would go in and inspect the machinery. whether it is a crane, excavator or digger – or even a printing machine or just a general office unit. And then we do the research: try and look for comparable evidence, which is the best market value that you can find. If there isn't any then we would need to go back to basic principles and took for what a depreciated replacement cost will be:"
So far as machinery is concerned. Ditcham adds, the task is slightly different as machinery is not country specific: it can move around. ·so we don't only have to look in the country we are conducting the evaluation in. For example, we work all over the GCC and all over the world. so if we are evaluating machinery in the UAE, we can get information from other areas so that we are able to provide the correct valuation.
Traditionally not a market to be known as one that is big on global practices such as machinery valuation, the Middle East has still taken to the practice in a larger way than some might expect. Ditcham feels, and new demands for transparency as well as adherence to global practices and regulations are only increasing the demand for valuations.
"We advise a company on the best way of disposing its assets. We go in, we provide valuations, we advise the company about the assets it needs to hold on to and the assets it makes more sense to get rid of. We can then advise on which market is best to dispose off the assets"
"Machinery valuation has existed in the Middle East market for quite some time," he says. 'Things are becoming far more transparent as dealings become more globalised and as banking requirements stipulate new needs. Therefore, we are now seeing an increase in the amount of work that we do. Obviously in Europe and North America machinery valuation is a very well established practice, but we find that in this region, as more regulations come in, the more valuation is required."
Another factor that is influencing the uptick in demand for machinery valuations is the current economic climate in the region and the need for contractors, builders and fleet owners to run leaner fiscal operations .
"Previously, a lot of companies would just buy equipment and discard it when not required. The traditional line of thought was that given the harsher environment in this region, most equipment wouldn't even last too long. But even when the equipment did last. trying to monetise the residual value of the fleet was not really something that the region gave a lot of serious and systematic thought to," Ditcham says. In the grander scheme of things, depending on the company and what money was behind it. sometimes it wasn't even needed, he adds.
"If it was a government-backed organisation, for example an oil & gas company, you often found that the need to sell a used crane to get back $55,000 in residual value, for example, paled into insignificance when compared to the budget at their disposal on the oil and gas field itself.
Adding value
"Now, however, times are a little different and things are obviously becoming a little more constrained, so profit and loss books are being looked up with far greater scrutiny. They are now looking at where can you make savings, where can you add value, bring in extra capital. And this is where we come in," Ditcham explains.
Speaking about one role of Cavendish Maxwell's machinery valuation services, he adds: "We advise a company on the best way of disposing its assets. We go in, we provide valuations, we advise the company about the assets it needs to hold on to and the assets it makes more sense to get rid of. We can then advise on which market is best to dispose off the assets, because it is a global market for sellers, not just a local or a regional one."
Ditcham feels that with the local market and the economic conditions being as they are, "we are only just scratching the surface of the amount of work that could be done". Keeping this in mind, Cavendish Maxwell is geared up to embrace the opportunities of the future and tackle the challenges.
"We've got a team in place and we are expanding. We've just opened an outfit in Oman: we do quite a lot of work out there. We have on-going operations inlraq, Kuwait and Saudi Arabia, where we have multiple jobs at the moment. So there is definitely a need to expand our machinery services. Again, as more regulations come in, and as more transparency is required by global organisations and banks, there's going to be more reasons for people to have their kit valued. So we definitely see it as an emerging market with a lot of promise. And we are geared up to make the most of it."